See below horses for sale, lots of pictures still coming. Keep checking, we are always adding more as their training progresses. If you are looking for a specific horse please contact us as we have many that may not be added on here yet.
Standardbreds, Saddlebreds, Arabians, Quarterhorses, Kentucky Mountain Horses, Tennessee Walking Horses - we have a large variety of horses to choose from. Prices vary from $1,500 anywhere up to $7,500. We have well broke horses and horses we are still working with. The more training we put into them the more their value goes up. Each and everyone of our horses are special to us in their own unique way and we try to match the right horse to the right owner. We only sell our horses to good homes. You are welcome to come and take a look around, or even a test ride.
SUGAR
2009 Kentucky Mountain Mare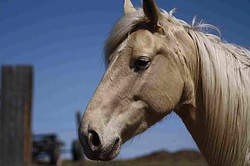 Sugar is a Palomino, mane past her neck and a tail that touches the ground. If you like palominos you won't find a prettier one! She loves attention, easy to catch, calm, great in the saddle. Not spooky. Eager to please and very calm, all around sweetheart. Good feet, utd on shots and dewormer. Has current coggins test.

Asking $7,500.00
---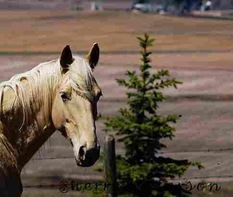 MARCIE
Registered Standardbred Mare
Marcie is a bay smaller boned Standardbred. She would make a super kids horse. Broke to ride and drive. Very well mannered, excellent with her feet. She likes attention and is easy to catch. Great all purpose horse.

Asking $2,500.00 SOLD Marcie went to her wonderful new home in Kananaskis country to the Tim Horton's Foundation Ranch.

---
SUNSHINE
2001 Purebred Arabian Mare
Sunshine is a very pretty bay girl. Broke to ride. Can be a little hard to catch without an oat pail, however once caught she is very easy to handle.


Asking $2,500.00

---
SILVER
Purebred Registered Quarterhorse Mare
Silver is definitely one of our most faithful horses. She is broke enough for our beginner riders and has enough spirit for our experience riders as well. We recently had her in parades and she was wonderful, Didn't spook, very well mannered. Excellent family horse. Very pretty grey with black knees.

Asking $4,000.00 SOLD to the Tim Horton's Kid's Foundation


---
STAR
Purebred Registered American Saddlebred Mare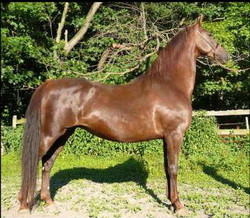 Star is a very beautiful liver chestnut girl. She is 13 years old and groundbroke. She was used as a broodmare prior to us purchasing her. Her previous owners did not have enough hay for all the horses they had and Star became very skinny. She is now in training and a feeding program so she will look like this picture again soon.

$2,000.00 - price to increase with training.
---